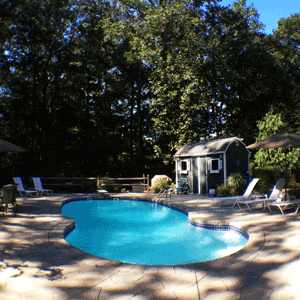 When it comes to your pool, most people don't think about it until they're ready to jump in at the first signs of summer.  In reality a swimming pool is a big investment that needs protecting and maintaining throughout the year.
Without regular maintenance your pool can suffer from algae and other unwanted contaminants, furthermore your equipment can wear prematurely and cost more money to replace.
A pre season service helps to keep your pool clean and working smoothly, ready for the season ahead.  But what are the benefits of a pre season service? Why should you pay to get your pool ready for the season?
3 Benefits of a Pre Season Pool Service
Ensures the safety of your pool users – A professional pre season service will check all equipment for wear and any potential safety hazards. It will also make sure that your pool is completely clean of all dirt, debris and has the correct chemical levels.  Rest in the knowledge that your pool is completely safe for users of all ages.
Identify problems before the season – Getting a service before the season means that you can avoid problems that prevent you from enjoying your pool over the summer.
Identifies areas you could be saving money – A pool specialist can identify equipment such as inefficient pumps or heaters that could be costing you more money. Modern, energy efficient models can save up to 80% on your energy bill! Buying this equipment off-peak is a great way to save even more money on the cost of equipment and installation.
Pre Season Pool Service in CT
Get your pool ready for the season with a professional, pre season pool service in CT.  Aqua Pro Pool & Spa will take care of everything so you can enjoy your pool all season, without problems!
Plus get 10% off labor when you purchase pool equipment before April 1st.
Call Aqua Pro to schedule your service today: (203)340-6874