We Are the Premium Pool Company Company in CT
Servicing Pools & Spas across Connecticut
Fulfilling the dream of owning a swimming pool is a remarkable accomplishment for many homeowners. They have obtained the privilege of lounging in the sapphire waters, entertaining pool side, and enjoying the outdoors. Not to mention adding value to their home.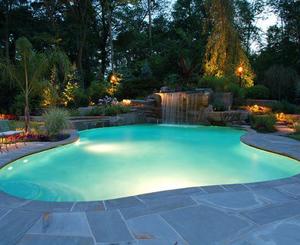 But having a swimming pool comes with numerous responsibilities, many of which the new pool owner is completely unaware of. This makes the services of an experienced swimming pool company an absolute necessity.Besides the maintenance needed for your pool, there are other matters that need attention: chlorine and pH levels, making sure algae doesn't make its way into the pool, and, of course, the removal of debris (leaves, sticks, insects) from the water. The swimming pool filter needs attention from time to time. Many pool owners have opted to purchase a heater to help keep the water warm in the early and late part of the swimming season. Aqua Pro Pool & Spa service personnel are well versed in filter and heater repair and swimming pool maintenance.
So it's no secret that owning a swimming pool comes with many responsibilities. Homeowners need to make sure the chemicals aren't off balance. They need to keep the bottom scrubbed and the leaves and bugs from accumulating. All these tasks can eat up a lot of time. With their busy lives, taking care of a swimming pool can be near the bottom of the list of priorities. That's why using the services of a reliable pool company like Aqua Pro Pool & Spa makes so much sense. It will allow you to enjoy more of your precious free time while also enjoying a crystal clean pool with your family and friends.
Aqua Pro Pool and Spa Service performs the same high level of service for our commercial customers. If you own or manage a spa, hotel, or gym, let Aqua Pro handle your pool, spa, and hot tub maintenance.
Aqua Pro Pool and Spa Service has earned a well-respected reputation as one of the best pool maintenance companies in CT.  
We are a dedicated swimming pool and spa repair and service company. Our commitment to quality and customer service is unsurpassed. We serve residential clients in Madison, Guildford, Branford, Westbrook, Clinton and Middlesex County.  Give us a call today: (203)340-6874!